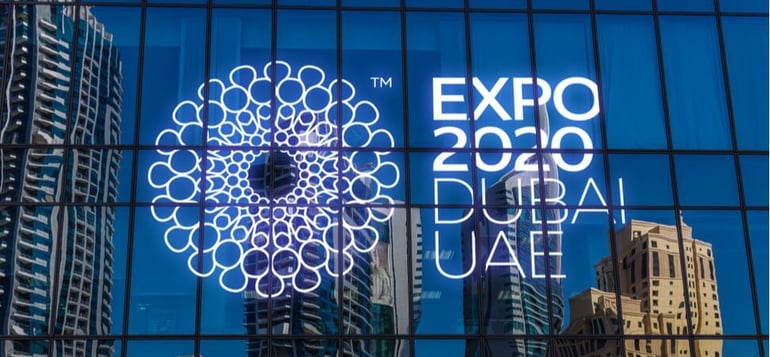 International trade in Dubai has achieved exceptional growth over the years and now hosts over 100 trade shows annually, including the highly-anticipated Expo 2020. Set to be one of the largest events hosted in the Middle East, Dubai Expo 2020 will offer new and exciting business opportunities for interested foreign investors. With over 190 countries taking part, the Expo will drive growth in various sectors in Dubai. In this blog, we explore the different industries that are anticipated to grow during the Expo and the opportunities present for entrepreneurs to look forward to.
What is the Dubai Expo 2020?
Expo 2020 is the first World Expo to be held in the MENA region. While it was initially planned to start on 20 October 2020, the travel disruptions caused by COVID-19 has postponed the duration to 1 October 2021 – 31 March 2022. For marketing purposes, organizers have kept the official name as Expo 2020, not Expo 2021.

Throughout the years, World Expos have been global exhibitions dedicated to sharing ground-breaking innovations, achievements of nations and discovering resolutions to fundamental challenges facing humanity. They are held every five years and last for six months.
Business Expectations Out of Expo 2020
The theme of Dubai Expo 2020 is 'Connecting Minds, Creating the Future'. More than 190 countries will participate in the Expo, showcasing innovations around the themes of sustainability, mobility and opportunity.
Sustainability
Dubai's Expo's sub-theme of sustainability strives to show us how to preserve the world using alternative energy sources, food and water. The Netherlands, Czech Republic, and Singapore are some of the nations that have set up a Sustainability Pavilion.
Mobility
COVID-19 has had a significant impact on mobility. Mobility as an Expo 2020 sub-theme aims to create a smarter and more productive movement of people, goods and ideas, both physically and virtually. Finland, Australia and Djibouti are among many that have set up Mobility Pavilions.
Opportunity
The sub-theme opportunity is set to tackle various social problems in society to shape the future. Switzerland, Monaco and the UK among others have set up Opportunity Pavilions.
Impact of Expo 2020 on Different Industries
Dubai Expo is expected to come with a significant impact across several business industries. Here are the top 3:
1. Real Estate
The first five months of 2021 saw Dubai's real estate industry garner $9.8 billion USD, a jump of 44% YoY. The predicted growth in Dubai's real estate market is mainly attributed to the tax exemptions Dubai has to offer. According to property market experts, with Expo 2020 around the corner, Dubai's real estate industry will likely see positive traction in the coming months. Expo 2020 is expected to add more than 60,000 new properties to the market before the start date. Positive growth is already being witnessed, with a reported 14% increase in transactions across Dubai's real estate market.
2. Hospitality & Tourism
Expo 2020 is expected to attract 25 million visitors, which will shift the tourism industry to the next level. With the increase in the number of tourists, the need for hospitality services will increase, and hotels and accommodation located near the event location will enjoy higher occupancy rates between October 2020 and April 2021.
Starting a hospitality business in Dubai at this point stands to be a perfect opportunity for entrepreneurs. To obtain a tourism licence in Dubai is a quick process, which the Dubai Tourism Authority will issue.
3. Banking & Finance
The economic boost from Expo 2020 has inevitably fuelled demand within Dubai's financial sector. Due to a surge in the number of foreign investors and organisations, the demand for financial advisers will increase.
It is estimated that Expo related projects require around AED 30 billion in funding. Therefore, government-Related Entities (GREs) and private sector companies carrying out these projects will tap into the bank market for funding.
DMCC and the Expo
As one of the largest events hosted in the Middle East, DMCC will be joining the Expo at the Investment Corporation of Dubai (ICD) pavilion – giving you the chance to explore potential opportunities to grow your business in Dubai.

Reach out to one of our experts if you are interested in setting up your business in DMCC, the World's #1 Free Zone.