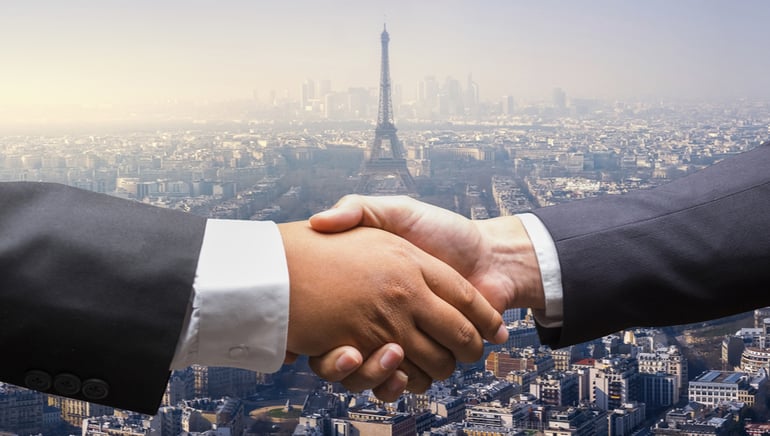 On 12 December 2015, 195 countries agreed to the terms of the Paris Agreement, the first truly global climate change agreement. Once ratified, the Paris Agreement will become a treaty under international law and will bind the signatories to its terms.
The purpose of the Agreement is to hold the increase in the global temperature to "well below 2°C above pre-industrial levels". To achieve this, the Paris Agreement creates a mechanism for driving emissions reductions, known as 'nationally determined contributions' (NDCs), which consists of a series of voluntary pledges by each contracting country to curb domestic greenhouse gas emissions by its chosen amount. There is no legal requirement for countries to comply with the NDCs. However, the Paris Agreement does create a transparency framework which can be used to hold countries to account regarding their compliance (or non-compliance) with their NDC pledge.
Before the Paris Agreement can become a treaty, at least 55 countries (making up 55% of global emissions) must ratify it. This will likely take some time and accordingly the commitments and goals of the Paris Agreement will only begin to apply in the next decade or so. Commentators are therefore divided as to whether the Paris Agreement will have an immediate impact on governmental or corporate policy.
This may represent good news for the oil and gas industry, which is still dealing with the consequences of a 70% reduction in the price of oil over the last 18 months. Moreover, the global economy is firmly built on hydrocarbon fuel resources and the insatiable demand for electricity means that this is unlikely to change in the short term.
Nonetheless, to attain the Paris Agreement's aims a substantial reduction in hydrocarbon use will be required. Such a reduction cannot take place overnight – rather, a gradual transition requiring sweeping social and technological developments will be needed in the coming years. To this end businesses in the oil and gas industry (and others) will be hoping that governments develop attainable long-term strategies and legal frameworks, to allow the industry to play its part in emissions reduction.
In this regard, the UAE is already leading the way in the region having set an aim to diversify its energy mix by ensuring 24% of its energy supply is made up of "clean-energy" (i.e. emission free) by 2021. To highlight the enormity of this task, in 2014 clean-energy made up only 0.2% of the UAE's energy mix.
Oil and gas companies, despite the downturn in oil price, still have significant resources, global reach and an extremely skilled workforce which can ensure they are able to lead the way in vastly reducing carbon emissions and making hydrocarbon production greener. Examples of this are using unwanted CO2 in enhanced oil recovery projects or in sophisticated carbon-capture and storage initiatives, or by more conventional means such as utilising solar power generation on production and refining facilities. For the oil and gas service sector, there are also opportunities to use their expertise and advanced technical capabilities to help develop innovative, efficient and clean methods for meeting the world's future energy needs.
Matthew Culver is the managing partner of CMS Cameron McKenna LLP's Dubai office and heads the firm's Middle East Oil and Gas team. Matthew can be contacted on +971 (0) 4 374 2800.