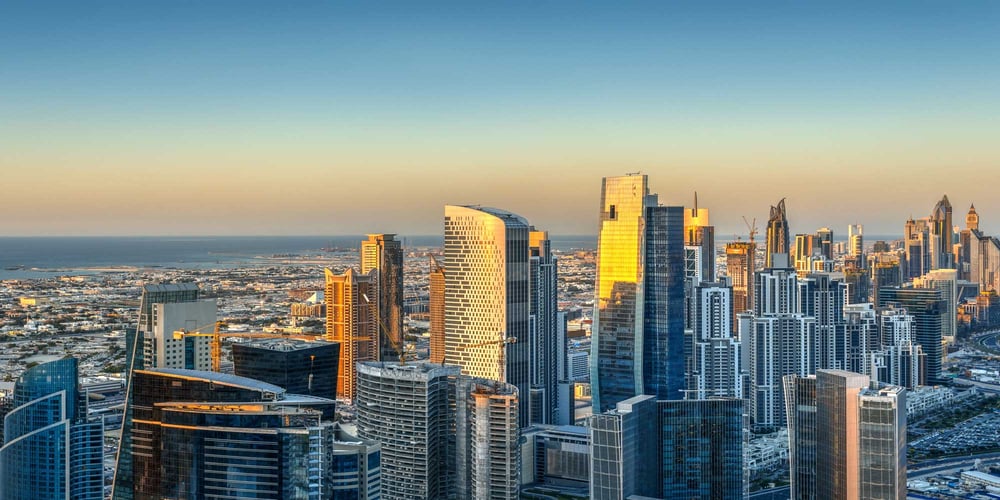 If you're looking to start a business abroad – look no further than Dubai. As a well-known trading hub of the Middle East and North Africa (MENA) region, Dubai boasts a wealth of benefits for businesses and companies looking to succeed, thrive and connect to the rest of the world.
In 2022, Dubai's real GDP growth was recorded at 7.6%. For 2023, the forecasted growth in real GDP is 3%. However, the UAE is considered a low-risk nation for business, ranking 10th out of 153 nations in the GlobalData Country Risk Index, offering a relatively stable environment for starting a business. If you're thinking of setting up a business in Dubai the process is relatively simple – especially in the form of the UAE's free zones.
Things to Know Before Setting Up Your Business
Generally, there are a few things you'll need to understand before you start the process to set up your business in Dubai. Let's take a look through each of them.
Economic Zone: Free Zones vs Offshore
Before setting up, you'll need to decide if you'd like to operate in a Free Zone or Offshore. Depending on your requirements, both options have their own benefits and specifications.
Free Zone
If you're looking for 100% ownership of your company, consider applying for a licence and location in one of Dubai's free zones. The free zone concept was introduced by the Dubai government to generate foreign interest to set up businesses in the city. It's a special economic area where business owners can enjoy full ownership, 9% corporate taxation (to be applied to UAE businesses on profits above AED 375,000), and 0% personal income tax.
However, one of the key limitations of operating a company in a free zone is that you are not allowed to make direct trade with the UAE local market.
Currently, there are over 30 free zones operating in Dubai. Generally, each free zone is designed around an industry category and offers licences to companies within those categories. Here are some examples:
Offshore Companies
Offshore companies can also be registered in a free zone, and enjoy many of the same benefits. However, it's not a substitute for a free zone company. The main difference between a free zone company and offshore is the operations of the business. Offshore companies are allowed to have business activities outside the UAE and not inside. They also have no requirements for minimum capital deposited before incorporation.

However, unlike operating as a free zone business, a sponsor is required, which will restrict your foreign ownership to only 49%.
Types of Licences
Besides deciding on a zone, you'll also be required to identify the type of licence needed. The Department of Economic Development (DED) issues business licenses and there are 3 main types you can apply for:
1. Commercial Licence
A Commercial Licence allows you o set up a business in Dubai that involves trading activities or the buying and selling of goods. This licence covers businesses in import & export, sales, logistics, travel & tourism, general stores and real estate.
2. Industrial Licence
The Industrial Licence is issued to businesses engaged in manufacturing activities that transform natural materials and resources into final products – manually or mechanically. This licence covers businesses such as textiles manufacturing, metal manufacturing and paper manufacturing.
3. Professional Licence
The Professional Licence is issued to businesses that are service providers, artisans or craftsmen. Examples of businesses that apply for this type of licence include medical services, beauty salons and repair services.
Sponsorship
No local sponsor is required when setting up in a free zone like DMCC. One of the main benefits of incorporating in a free zone is that you are able to set up an entity with 100% foreign ownership without the need of a UAE national as a partner or sponsor.
Dubai Free-Zone Company Setup Process
When setting up a business, free zones are popular with foreign entrepreneurs as they offer:
0% personal tax
Low corporate tax rates
100% company ownership
100% repatriation of capital and profits
No currency restrictions.
Here are the 7 steps you'll need to take to set up your business in the free zone:
1. Find Your Business Activity
It is key to first determine the nature of your venture when starting a business. Whether you are looking to start a small business in Dubai or a crypto business in the UAE, there are over 2,100 business activities​ available to choose from, all falling into different groups within the industrial, commercial, professional and tourism space. You can find the full list on the DED website.
2. Decide On a Free Zone
With over 30 free zones in Dubai to choose from, it generally makes sense to set up in close proximity to businesses in the same sector. The nature of your business can have an effect on which free zone you decide to set up in.

DMCC – the world's flagship Free Zone and Government of Dubai Authority on commodities trade and enterprise – has been awarded Global Free Zone of the Year by Financial Times' fDi Magazine for each of the last eight years.


3. Choose a Company Name
When choosing your business name, it's important that it conforms to the UAE's naming conventions. Names that include offensive language could be perceived offensive to religion. References to political groups or the mafia are forbidden. If you're naming the business after a person, you'll need to prove the person is a partner or owner of the company (no initials or abbreviations allowed).

Naming your business could be a complicated process. You can save time and effort by consulting an expert to help you follow the conventions and get your name approved.
4. Apply for Initial Approval
Initial approval from the Dubai DED is required so that there are no objections on starting a business. You can apply for this online, in person or through a third party (law firm). The documents you'll need to provide will depend on your business nature, but they generally include:
Business registration and licensing form
A copy of your passport or ID
A copy of your residence permit/ visa
The company's articles of association
Feasibility study of the project

If you need help applying, please contact one of our experts who can guide you through the process to ensure you've correctly filed and prepared documents.
5. Open a Corporate Bank Account
Once you've been approved and received back all the necessary documents, you can now open a corporate bank account. The UAE has many banks, both local and international, to choose from. These include but are not limited to:
HSBC
Citibank
Barclays
Abu Dhabi Commercial Bank
Commercial Bank of Dubai

To learn more about this, check out our blog where we outline a 5 step process to successfully open your bank account in Dubai.
6. Set Up Your Office Location
It's compulsory for all businesses in Dubai to have a physical address. Fortunately, setting up in a free zone will help you find your new office space easily.

At DMCC, we offer a large range of commercial property, office buildings and business centre accommodation to rent, hire or lease to any size and type of business. All our offices are all well equipped with wi-fi, access to meeting rooms, support services and all utilities available. With 68 towers around the area, you're sure to find the right office space.
7. Apply For Final Approval
You'll need to prepare all your documents, location addresses, and legal information to submit for final approval. In some circumstances, you'll need to apply for licensing approval from other authorities. Once ready, you'll need to submit:
Initial approval receipt and all the previously-submitted documents
The lease contract provided by the Real Estate Regulatory Agency (RERA)
Duly attested service agent contract (for civil establishments and companies that are 100% owned by non-GCC nationals), the UAE involving a local service agent
Approval from other government entities concerned

Finally, you'll need to pay for the licence through various approved payment channels – and your business is ready to run.
Ready to Set Up Your Business in Dubai?
Although seemingly a long process, the turnaround for setting up your business will only take a matter of weeks when done right.

Get in contact with us at DMCC to help set up your business in the world's #1 Free Trade Zone and centre of global commodities trading. We'll assist you every step of the way from drafting documents, managing submissions and helping with translations. We'll help you set up your bank accounts, help you, seek approval from authorities and provide general advice and consultancy. Reach out to us today to see how we can help you!