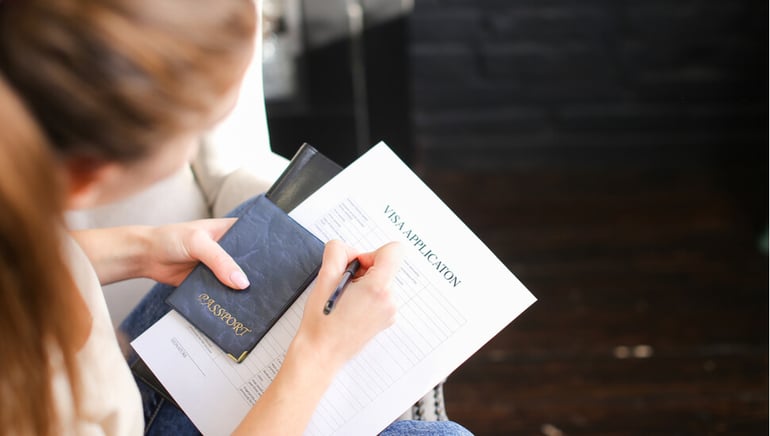 You have successfully established a new business in one of the UAE's free zones. You have set the processes in motion and are looking to grow your business with a new team. Whether you are hiring within the UAE (a talent working at Dubai's onshore location) or want to hire a foreign workforce, the Dubai Free Zone visa applications are relatively straightforward.
However, with a pool of information available today, it can be overwhelming to understand the visa process, including the eligibility, legalities and expenses.
Most free zone authorities impose a limit on the number of visas issued to each business. Companies can increase their visa quota by either moving to bigger offices or can request an increase in visa quota, subject to the free zone authority's approval.
This detailed blog will help you make an informed decision about the associated procedures, types of visa and eligibility requirements for each type of visa.
Four Types of Dubai Residence Visas at DMCC
The process of visa application with DMCC is simple and straightforward.
The visa quota set by Dubai Multi Commodities Centre (DMCC) depends on the size of the office you have selected. For example:
Flexi desk: Up to 3 visas
Serviced office: 4 or 5 visas depending on the size of the office
Physical space: 1 visa for every 9 square metres
Free zone visas do not deal with the UAE Ministry of Labour. Each free zone authority has its employment law and the provisions set out in the employment contract are in accordance with labour law. Free zone visas strictly do not allow the individuals to work outside the free zone (i.e. onshore) as they do not have an entire UAE labour contract.
Every DMCC licensed company is eligible for four visa types: Employment visa, Dependents' Resident visa, Partner / Investor Visa (that also includes Business Visit visa) and Student visit visa (university and institution).
Each of the four visas arrives with scenarios ranging from new applications to renewal processes to transfer access for employees already living within the UAE. Visit our page here to know more about the breakdown of each category at length.
Employment Visa
A DMCC licenced company must ensure that its employees are authorised to work in the free zone by either holding an employment residence visa, an identity card, or access approval.
Identity cards and access approvals are an alternative way for an entrepreneur to authorise an employee without being sponsored directly by the company.
Employment Residence Visa
An employment residence visa is the most common visa through an employment contract with any free zone business. A free zone authority (in this case - DMCC), and not the employer, sponsors a free zone employee's visa.
An employee needs an appointment letter from their company in a free zone to begin their application. This type of visa is valid for one, two and three years, and the application process differs for employees based outside of the UAE and for employees based within the UAE.
Identity Cards
If you would like to hire a female under her husband or father's sponsorship, you will need to obtain an identity card for this female employee. The identity card is valid for one year. Each electronically-issued identity card is a new count against your company's allotted visa quota.
Access Approvals
If you would like to bring someone to your office for temporary work and that person is not an employee, you will need to obtain access approval. This typically applies to consultants, contract workers and employees of sister/parent companies that need to work on-site in DMCC temporarily. An Access Approval is valid for up to 1, 3 or 12 months. Access Approvals are limited to no more than 30% of the workers performing.
Dependents' Resident Visa
A DMCC licensed company is eligible to apply for UAE residence permits for your sponsored employees and their dependents such as wife, children, parent(s), parents-in-law and housemaid(s) through DMCC. This application, however, will be subject to Dubai's Federal Authority For Identity and Citizenship (FAIC) rules and regulations.
A dependents' entry permit is valid for 60 days. If the dependent fails the medical test, the family member cannot remain in the UAE.
Partner / Investor Visa
This type of visa is ideal for foreign nationals who want to start their own business in Dubai or invest in existing companies.
An investor visa is valid for three years, and no deposit at the immigration is required.
Business Visit Visa
A DMCC licensed company can also sponsor a foreign team member to visit UAE for business purposes. DMCC can help obtain a business visitor visa for this employee. This type of visa is valid for one month.
Student Visa (University and Institution)
A student at DMCC licensed university or institution is eligible to apply for a student visa. A university student visa is valid for one year and an institution visa is valid for ninety days.
Key Criteria for DMCC Visa
DMCC's online portals process all the visa applications. Each application requires a set of documents, which differs from case to case. The visa application process also varies on whether the applicant is outside the UAE or within.
If the employee application is outside of the UAE, mandatory documents such as the Emirates ID, latest passport copy, a passport-sized photo, signed offer letter, relevant education certificates, signed employment contract, and medical fitness certificate are compulsory for all employee-related applications. DMCC does provide an optional service to issue the Emirates ID and medical fitness certificate.
If the employee application is within the UAE, the additional documents required are Emirates ID, status change document, and current visa copy.
Some of the essential criteria to consider when applying for any type of visa is as follows:
Employment Visa
Minimum passport validity must be six months while applying for the employment entry permit
Relevant education certificates are to be attested from the UAE Embassy in the home country as well as the Ministry of Foreign Affairs (MOFA) in Dubai
All certificates should be legally translated into Arabic, if the applicant is within the UAE region
You can apply for your prospective employee's health insurance through one of the Dubai Health Authority (DHA) 45 approved local health insurance inside the UAE
Visit our application video manual here for detailed information.
Dependents' Resident Visa
Employees who receive a minimum salary of AED 4,000/month and live in a minimum one-bedroom accommodation can sponsor their immediate dependents - wife and children
Employees who receive a minimum salary of AED 20,000 with accommodation can sponsor their parents and parents-in-law
Valid health insurance for dependents
If the employee holds designations such as a clerk, sales, executive, admin, assistant, etc., then that employee is to submit a three-month bank statement
The sponsor's job should not be workers or any position equivalent to housemaids to be eligible for the sponsorship
If you are only a shareholder of a DMCC licensed company holding a Dubai residence visa and not an employee residence visa issued by a free zone authority (DMCC, in this case), you can still apply for a dependents' resident visa with DMCC
Visit our application manual here for more information.
Partner / Investor Visa
If you have multiple shareholders holding a minimum of 50,000 share capital within your DMCC licensed company, you can obtain a partner visa for them
If you are the sole shareholder of your DMCC licensed company, you can obtain an investor visa
Business Visit Visa
Each company can apply for up to 3 such visas at any one time
This type of visa is non-renewable and non-refundable
The associated costs are non-refundable in case of rejection
Student Visa (University and Institution)
Minimum passport validity of six months and application letter from the university/institute
Visit the application manual here for more information.
Hassle-Free Visa Services with DMCC
The DMCC Member Portal facilitates a wide range of company services such as licensing, company amendments, and NOCs for you. The portal allows you to efficiently manage your business activities in one convenient location, so you have more time to focus on what's most important to your company.
About DMCC
DMCC is the world's number one free zone. 8 times awarded 'Global Free Zone of the Year' by fDi Magazine and home to over 22,000 companies, registering an average of 7 new companies daily. With a focus on driving commodity trade flows, DMCC is the leading centre for international commodities like gold, diamonds, precious metals and coloured stones. They have an average annual growth rate of nearly 30% over the last decade, increasing Dubai's overall GDP by around 10%, leading to their award for Economic Impact.
*The material provided in this blog is for general information purposes only and is subject to change based on government policy and regulations.